Linwood Police Department
400 Poplar Avenue
Linwood, New Jersey 08221

Phone: 609-927-5252
Emergency: 9-1-1
Patrol Fax: (609) 926-8216
Detective/Records Fax: (609) 927-4918
Administration Fax: (609) 927-4918

Department Hours: General Public 24 hours per day
Police Records and Administration

Department Hours: General Public 24 hours per day
MISSION STATEMENT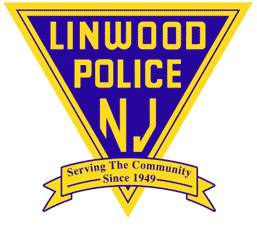 The Linwood Police Department is committed to providing thehighest quality of Professional Police services byempowering our employees and the community, to work in partnership with the common goal of improving the quality of life within the City of Linwood. We will enforce the laws, preserve the peace, protect life and property, reduce fear and provide for a safe environment for all members of the community, while at the same time maintaining the respect for individual rights and human dignity as provided for within the framework of the United States Constitution and the Constitution of the State of New Jersey.
POLICE DEPARTMENT PERSONNEL
The police force occupies headquarters in the City Hall, which is located at 400 Poplar Avenue. On a year round basis the Department consists of 18 full time sworn officers which includes a Chief of Police, one Police Captain, one Lieutenant, four Patrol Sergeants, one Detective Sergeant, one Detective, eight Patrol Officers, one Special Law Enforcement Officer Class Two, one Special Law Enforcement Class Three and one Police Secretary. There are also Crossing Guards to assist the City youth to safely walk or ride bicycles to and from school.
CONTACT INFORMATION